The Fig and The Pheasant offers unique, gourmet catering for events of all sizes and styles. We'll work with you to design and deliver a one-of-a-kind dining experience for you and your guests. Please browse our sample menu to get a taste for how our culinary connoisseurs can make your party, gathering or business event one to remember.
Lussekatter
(Scandinavian Saffron Buns)

Minimum of 6 each

Large Caramel Pecan Sticky Buns

Minimum of 6 each

Orange Scented Sour Cream Coffee Cake
with Brown Sugar Pecan Streusel

6" Cake | 9" Cake
Savory Sausage & Cheese Egg Bake

Minimum of 4 pieces
Triple Cream Brie Baked In Bread

With blueberry lavender compote
Serves up to 6

Mezze Platter With Marinated Olives

Whipped feta, spiced yoghurt, hummus, vegetables and flatbread
Serves 4-6 | Serves 8-12

Sliced meats, pate, cornichons, mustard, smoked salmon, quince paste, herbed chèvre, cheese, dried fruit and crackers
Serves 4-6 | Serves 8-12

Chicken Liver Truffle Mousse

With sparkling gelee, gherkins and crusty bread
Serves 4-6

Cauliflower Buffalo Bites

1 Quart

With fennel and cashews, served with crostini (not GF)
1 Quart

With smoked paprika and ginger lime marinade
1 Dozen

With ginger dipping sauce
1 Dozen

Herbed Goat Cheese Crostini

With caramelized onions and sautéed mushrooms
1 Dozen
With ricotta, avocado, lime and pomegranate
1 Dozen

with walnut arugula pesto
1 Dozen

Assortment Of Deviled Eggs

1 Dozen

Spice Rubbed Filet Cheese Steak Sliders

Served on sliced baguettes with garlic aioli and MontAmore cheese
1 Baguette | 10 Slices

With fennel, dill and almonds, served with lemon remoulade
1 Dozen

Flatbread With Roasted Vegetables

With herbs, roasted garlic, wilted greens and olive oil
1 Flatbread

With sea salt, olive oil and balsamic
1 Flatbread

Flatbread With Creamy Brie

With rosemary, arugula, walnuts, and pomegranate
1 Flatbread

Flatbread With Asian Pork

With sesame ginger slaw, sriracha aioli and wonton crisp
1 Flatbread
Crème fraiche and herb oil
1 Quart

Creamy Apple & Grape Salad

With toasted walnuts and crème fraiche dressing
Serves 4-6

With crisp apples, pecans and pomegranate
1 Pint | Serves 2-4

Pear & Sartori Bellavitano Salad

With roasted walnuts, winter greens and pomegranate vinaigrette
1 Order | Serves 2-4
Layers of mortadella, coppa and smoked ham with provolone cheese and Moxie's olive salad, served on focaccia

Nueske's Smoked Ham on Rye with Wisconsin Swiss

Thinly sliced Neuske's smoked ham with lettuce, tomato and Wisconsin Swiss cheese, served on rye bread

A Moxie Classic | Our herb-roasted turkey breast, sliced, with mayonnaise, lettuce, sliced pickles and cracked black pepper, served on whole grain bread
Roasted Fingerling Potatoes

With olive oil, shallots, garlic and fresh herbs
Served per person | Minimum of 4 people

Sauteed Lemon Butter Green Beans

Serves 4-6
Served per person | Minimum of 4 people
Spiced Stout Gingerbread Cake

6" Cake | 9" Cake

With 7 minute frosting
6" Cake

Caramel Frosted Brownie Cake

6" Cake

Gateau Breton With Dried Plum Filling

A Classic French Cake | 6" Cake

Lady fingers, vanilla spiced rum, espresso, mascarpone cream
Serves 10-12
Dutch Almond Speculoos Cookies

1 Dozen

Dark Chocolate Crinkle Cookies

Each

Brown Sugar Oatmeal Cookies

Each

Buckwheat Chocolate Chip Cookies

Each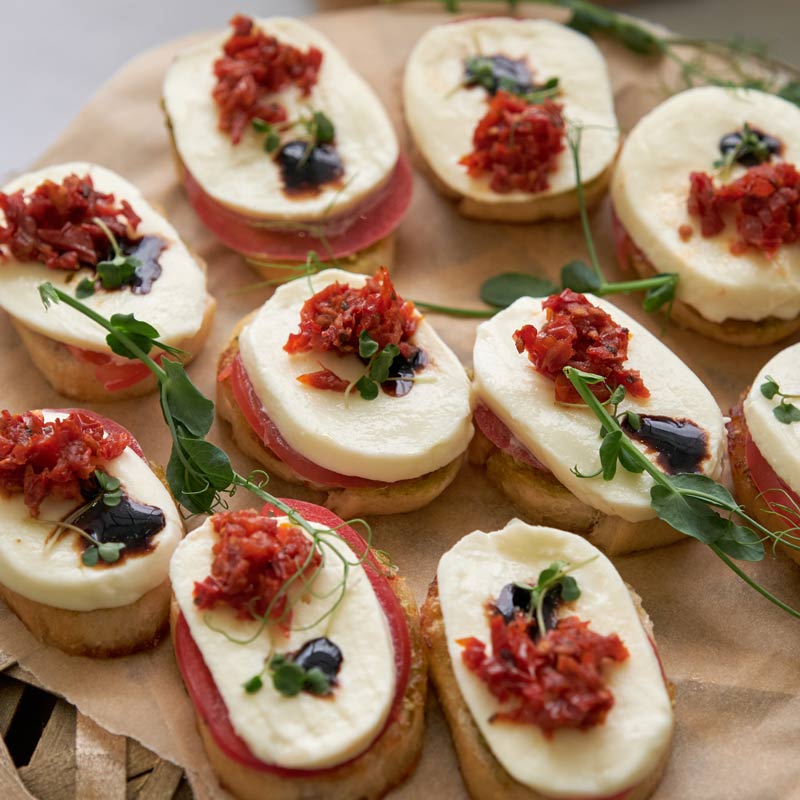 When you're ready to start the conversation about catering your party, event or gathering, contact us today for more information! We're eager to answer questions, recommend food and beverage pairings, and assist you with any other catering needs you may have.